Strategic C-Suite Services for Growing Businesses
Fractional finance, operations, and human resource expertise to support small and medium-sized businesses.
Trusted Across Industries What We Do
The CEO's Right Hand (TCRH) offers fully customized outsourced finance and human resource services.
No two businesses are identical, so we don't offer pre-packaged services. Instead, we custom-design each engagement to your unique requirements.
No more, no less.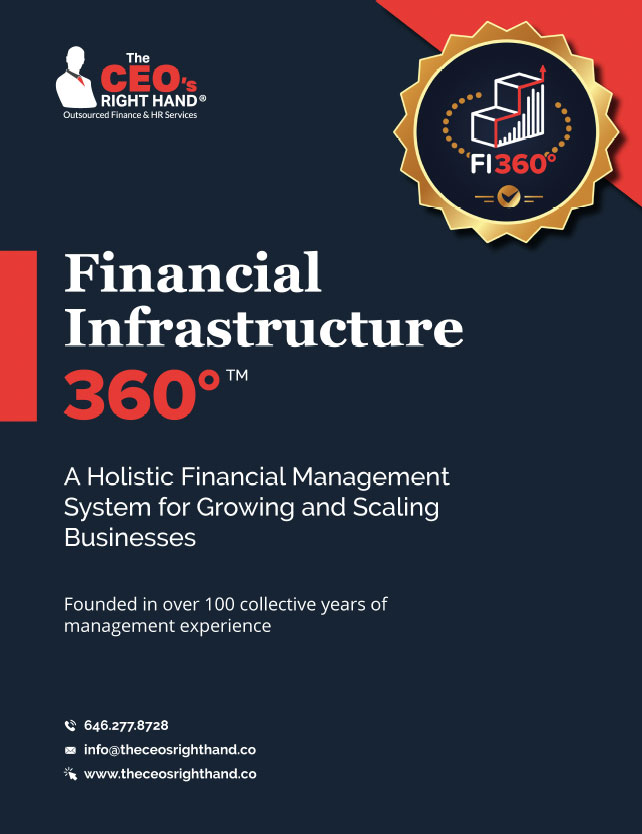 How robust is your financial infrastructure?
In this free resource, we share the five key components of our proprietary system, Financial Infrastructure 360°™. Leverage over 100 years of collective expertise using our self-assessment worksheet.
How We Work
Our success is your success.
Each hand-picked consultant at The CEO's Right Hand specializes in an industry vertical. We match you to an expert and ensure a good fit before beginning an engagement. From there, our consultant becomes a member of your team – their goals are your goals. Our personalized approach has generated successful outcomes for clients since our founding.
SaaS / InsureTech
Jones solves the most archaic workflow in real estate – insurance certificates. Its leaders hired The CEO's Right Hand (TCRH) to manage the organization's financial needs while continuing to grow the business.
---
$12ᴍ
After engaging with TCRH, Jones was able to complete a successful $12M capital raise.
Food Industry
Crispy Green is a leading branded purveyor of fruit-based snacks in the U.S. and abroad. It needed strategic financial advice and human resource capabilities to grow and scale.
---
93%
Since the company first engaged with TCRH, its annual revenues have increased by 93%.
Consumer Packaged Goods
After a Series A, CEO Dave Asprey and the Board of Directors saw the opportunity to raise a Series B round of equity. Members of The CEO's Right Hand (TCRH) worked with the management team to develop a detailed 5-year forecast model for potential investors. 
---
$19ᴍ
With TCRH's support, Bulletproof secured a $19M Series B Round.
Business Services
In 2018, JBC was at a critical juncture. Demand was strong, but the firm's internal finance and accounting infrastructure lacked the necessary processes and controls to support this growth. TCRH provided a single, "full-stack" approach for all finance and accounting functions.
---
$1ᴍ
TCRH has successfully guided JBC to increase its net working capital by $1M.
"William and Ed McCormick really helped to put together the financial story behind Bulletproof's success so that I could share it effectively with potential investors. Because we were already running on all cylinders managing Bulletproof's rapid growth, we simply didn't have the resources to craft an effective and compelling investor presentation. It worked, and it rapidly accelerated our fundraising without causing me to take my foot off the accelerator."
What really moves me about The CEO's RIght Hand is their patience and empathy as a business partner. All of them are finance professionals, but at the same time they understand start-ups, spreadsheets, terminology and policy behind capital markets. Our CFO has been fantastic, patient, and can execute on complex problems effectively. I have access to the founder, William, so when I need that affirmation, he is in my corner. I would recommend TCRH to any start-up in any industry."
William and his team are exactly what we needed to help us build a detailed financial model so that we could effectively evaluate and implement strategic decisions about the business. TCRH also was instrumental in helping us successfully manage a complex credit facility renewal process with our bank. I highly recommend anyone that needs financial advice or hands-on help to call them."
The CEO's Right Hand, a bespoke outsourced finance and HR services solution, announced that Thomas Moysak has been appointed as the VP of Business Development. We are confident that Tom's first-hand experience as a small/mid-size C-suite executive will help us...
Hiring strategic leadership is expensive. Learn why some companies outsource such roles and how to do so effectively.
Learn about the business trends our CFOs are watching, how they could affect your budgets and forecasts, and what they recommend.