August 14, 2019
Crispy Green is Featured on the Jumbotron in Times Square
July 25, 2019
Xtiva Launches Xtiva Connect to Enhance Data and Application Integration


South Carolina Chamber Announces 2019 Best Places to Work and Allure Medical Tops the List
June 20, 2019
Crispy Green to Exhibit at Summer Fancy Food Show
Axial Highlighted as M&A Top Service Provider  
Inaugural LBTQ Women's Conference Invites Jennifer Brown Consulting Founder, CEO and President, Jennifer Brown to speak 
Thomas Moysak, CEO of Xtiva Financial Systems, says firms should be providing a conducive environment and lowering friction costs for advisors so they can, in turn, provide maximum advice to the end-client.
How Allure CEO, Charles Mok, is Changing Healthcare one Practice at a Time 
Men's Journal Chooses Higher Dose's Infrared Sauna Blanket as Top Pick 
April 23, 2019   
New Landfill Will Improve People's Lives
March  29, 2019
Rebel Labs Launches Rebel360. Eat, train, and thrive with a science driven program of exceptional courses and our tribe of Rebel Experts to guide, inspire and entertain you on your journey.
March 13, 2019
Ode Magazine names Crispy Fruit the #1 best freeze-dried fruit snack! 100% pure fruit, nothing else!
December 5, 2018
Crispy Green is an "Official Fueling Partner" of Rutgers Athletics to help encourage healthy lifestyles and nutrition choices among the Scarlet Knights community. Our Crispy Fruit Snacks are now available to Rutgers athletes, students, fans, and alumni.
November 5, 2018
Intellis Partners with the Department of Education (DOE) and the School Construction Authority (SCA) on a project that aims to increase investment in NYC public schools and support their mission to ensure safe, modern, and comfortable learning environments for all NYC students and staff!
November 3, 2018
From a one-person startup to 65+ team of staff with 5 offices, Premier has come a long way since 1998. Premier Talent Partners Celebrates 20 Years!

October 30, 2018
Terakeet's Support the Cause for the Cuse, an initiative driven by Terakeet employees committed to serving students in the Syracuse City School District.
The committee hosts events year-round to raise money to purchase clothing and school supplies that directly benefit students and bring awareness to the needs of the Syracuse community.
September 30, 2018
Crispy Green Recognized in Grocery Insight Magazine with Category Leadership
September 27, 2018
Why Ground Up Ventures Invested in Jones.
While a sector-agnostic fund, Ground Up Ventures likes that Jones is at the intersection of two sectors they've spent a lot of time thinking about — insurance and real estate. The reason they like these areas is twofold:
Insurance and real estate are two of the last mega industries to be disrupted by software and innovation.
We evaluate every investment opportunity through the lens of whether we can add meaningful value to the business, and real estate and insurance are two verticals where our relationships are both vast and deep. This enables us to quickly validate companies in these spaces during due diligence and to accelerate their go-to-market post-investment. Read more here.
September 21, 2018
Jones announces a $2.8M Seed round with investors at Hetz Ventures, JLL Spark, MetaProp NYC, GroundUp and 500 Startups! Bringing flexibility and freedom of on-demand InsureTech solutions to the Real Estate and Construction industry. Congratulations. Read more here.

August 27, 2018
The Crispy Green Team loves to give and Angela recently volunteered her cooking and baking skills at MONTCLAIR EMERGENCY SERVICES FOR THE HOMELESS INC for needy adults and families in Montclair, NJ and the surrounding areas.

August 17, 2018
MetaVRse Takes Dubai: CEO and Founder, Alan Smithson visited Dubai to take part in their museum of the Future Accelerator. Read more here.
August 16, 2018
Intellis Software Empowers NYCHA to Request $32 Billion in Revised Capital Investment Plan. Read more here.
August 2, 2018
Founder of Crispy Green, Angela Liu was featured on PBS's NJTV to discuss her humble beginnings as a small business owner. Watch here.
Upon arriving to Crispy Green's warehouse, boxes of the healthy fruit snack were unloaded in bulk. You can find their products in over 5000 retail stores across 45 states. Angela came a long way from where she started. With no background in how to start a business or the snack market industry specifically, Angela believed in the freeze drying technology used to make her product and was willing to put in the hard work to get her where she is today. She initially got financial help from friends and family but her first loan was backed by the Small Business Administration (SBA) and she also used the federal used agency' resources to help with her business plan and for guidance.
August 2, 2018
July 26, 2018

Xtiva Financial Systems Celebrates its 20th Anniversary!
What do the following things have in common?
1. Google was founded
2. The iMac
3. The MP3 player (and MP3 files)
4. Titanic (the movie)
5. Bluetooth
6. Harry Potter in the US
7. Justin Timberlake
8. Game Boy in Color
9. Armageddon (the movie)
10. Xtiva
The answer is they all launched in 1998, which was 20 years ago. Read More on Xtiva Turning 20
July 17, 2018
MetaVRse launches XR For Business Weekly | The Latest News in Virtual, Augmented & Mixed Reality highlighting e-Commerce, Retail, Entertainment, Marketing
and Automotive. Read More here.
June 30, 2018

Strata Sustainability is an environmental company working to transform the way solid waste is handled in the Caribbean and other emerging markets. With proprietary systems – it is bringing recycling, composting, dumpsite closure, battery supported solar power, bio-remediation and modern water management to locations where burning, open dumps are the norm. Read here to learn more.
June 6, 2018

Xtiva Financial Systems, Inc. and Absolute Engagement Inc., have announced an alliance to help advance advisor success and achievement with a focus on client engagement throughout the entire advisor journey. By establishing this partnership, Xtiva is extending and enriching its Sales Performance Management (SPM) platform to further the success of advisors and their firms. Read here for more on the partnership.
June 5, 2018
The Makers of Crispy Fruit Freeze-Dried Snacks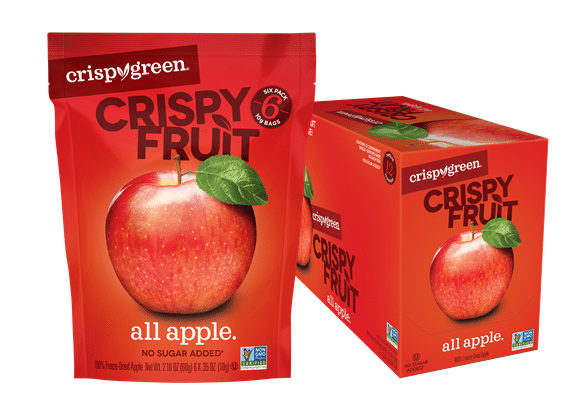 Launch Powerful New Brand and Packaging
The leading freeze-dried fruit snack in the nation just got a new look, designed to get your attention and better reflect its wholesome, single ingredient – 100% fruit! Read more

May 21, 2018
Axial Product Investments Lead to Continued Market Growth. Axial has made major investments in its technology, leading to network growth and adoption from top-notch middle market advisors. Read here for a few of the major improvements that are delivering new value to the network.
Immediate Release

Sustain Natural Takes on the Tampon Tax and Tackles That Time of the Month with Launch of Innovative Subscription Service
Organic Period Brand Speaks Out Against Gender Bias And Donates to Girls Helping Girls. Offering Low Income Women Access to Menstrual Hygiene Products
Sustain Natural, the pioneering brand of all-natural vagina-friendly wellness products launches a new line of organic period products via an innovative online subscription service where women can customize their own period kits, conveniently delivered bi-monthly.
April 24, 2018

New Members, Network Growth, and Closed Deals from Q1
It was an exciting Q1 at Axial. At the outset of the quarter, we hit the $25B mark in aggregate deal volume, and 2,000 consummated transactions since Axial's establishment in 2010. The network continues to grow and we continue to invest in our technology and events platforms.
April 17, 2018
Parsley Health Raises $10 Million with First Mark Capital to Help Expand and Transform Healthcare!!
Parsley Health makes personalized medicine modern, accessible and affordable. It cuts out co-pays and lowers the need for prescription drugs and specialists. Their doctors treat disease at its root, and take a preventative approach to healthcare. If this is what the future of medicine looks like, we're on board. Read more here and their feature in Tech Crunch.
March 18, 2018
NBC News highlights our client, Parsley Health, who aims to offer more personalized visits and technologically advanced services. Click here for more.
Parsley Health is an advanced primary care, wellness and nutrition care provider, taking a holistic and smart approach to healthcare today.
They provide advanced testing, continuous collaboration, nutritional guidance, and technology to provide their patients with the highest quality care.
March 15, 2018
CNN's Genius Morning Habits, As Told by Five of the World's Most Successful People has Arianna Huffington citing Bulletproof Coffee as her energy- and brain-boosting coffee routine.
March 13, 2018
CBC The National Interviewed CEO of MetaVRse, Alan Smithson, on 5G and How it is Expected to Change the Next Generation of Technology. Click here to view full Alan's full interview.
Using virtual and augmented reality to improve the human experience. Since its inception in 2016, MetaVRse is consistently looking at where the market is headed and is creating solutions to problems (over 50 unique VR/AR projects to date) the world has not realized will exist. By staying ahead of the curve, their clients enjoy the knowledge that everything they build for them will stand the test of time. Whether an AR application to launch a new TV show or a VR retail experience, their experience with this technology is formidable.
March 6, 2018
Bulletproof Supports Massive Growth Through Key Leadership Hires and New Seattle Headquarters

Bulletproof 360, Inc., creators of Bulletproof ® Coffee and other cutting-edge food and nutrition products, announced today the addition of three executives to its leadership team and the opening of its new headquarters, located in downtown Seattle at 1012 1st Avenue. These new leaders will support the company's momentum, focused on further improving the consumer experience and continued expansion of the brand's grocery distribution footprint. Read more
January 10, 2018
Crispy Green Sponsors 'Power Your Lunchbox' Program
Crispy Green, makers of Crispy Fruit Snacks (the #1 freeze-dried fruit snack in the nation), continues to sponsor the Power Your Lunchbox program, which provides a treasure trove of lunchbox ideas, recipes and tips to help make parents' lives easier. From quick and easy lunches for the time-challenged family, to super creative and fun lunchbox masterpieces—ALL of the lunches receive high scores in nutrition. Read here for more.
January 1, 2018

Intellis is awarded the Stevie Award for Excellence in Customer Service and Sales.
For two years in a row, Intellis (formerly the Warshaw Group), was awarded a Stevie Award. Stevie Awards is a global business awards program that honors and recognizes the achievements and positive contributions of organizations and working professionals.
"The CEO's Right Hand is a major asset to the company. We would not be where we are today without their help over the past year. They quickly learned our business model and translated the finance and operational drivers into actionable goals for the entire team."
We'd love to work with you
We provide fractional financial and accounting services so you can focus on growing your business.